Turning burden into benefits
We understand that one size does not fit all when it comes to company secretary and corporate secretarial services.
In fact, international and fast-growing companies oftentimes need bespoke support and alignment. Therefore, our team spans multi-faceted specialisms and industries to deliver against three fundamental client needs: compliance, regulations and risk.

By taking care of our clients' best interests, we enable them to grow rapidly in size and revenue. But don't take our words for it. See for yourself what our clients have to say about our premium secretarial services.
Our Purpose
Ensuring clients' entry into Malaysia an easy transition to growth and profitability.
Commitment to deliver exceptional experiences and create long term relationships with clients by solving their most complex challenges, whenever and wherever they arise.
"We've been an AK Secretarial client for 6 years, growing from 3 to 80 employees today. AK is always a reliable, responsive and trusted business partner along the journey."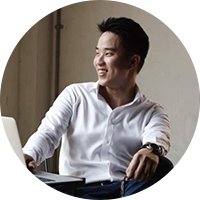 Tai Zi Kang
Founder of Hoppi & Alcosm
"VHR has been working with Winnie for 10 years and I find her to be a responsive and dedicated partner. In any service line, to me, we need to have someone whom embrace service-oriented mindset and I am glad that VHR has her to assist in our business growth. Good job, Winnie!"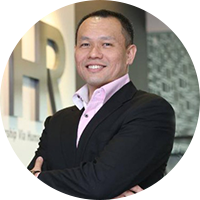 Low Fang Kai
Managing Director of Agensi Pekerjaan VHR Consultancy
"Surely the best company secretary we've ever worked with in our many years of business experience. Very attentive and resourceful in assisting our Company needs."

Datuk Seri Raja Nor'ainon Binti Raja Al Ekram
Chairman, RE Technology Sdn Bhd
"It gives me great pleasure to recommend Companies.com.my. I have been faithfully using their services since 2015 and I have absolutely no regrets in that. Winniefred Tan and her team are excellent in what they do and so far have never missed a deadline or failed to inform me of any update to the legal requirements in the process of my setting up and running my company."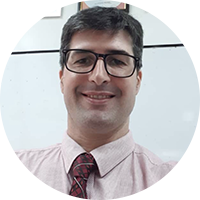 Brendan Mehdi Lanza, American
Chief Executive Officer, Qosmo International School
"The best company ever working together for secretarial service in Malaysia. Accurate solution and advice and prompt feedback for managing company. Overall, worth it, and recommendable."

Jun Byun, Korean
Director, UNI C&C Sdn Bhd
"We engaged the services from Companies.com.my three years ago. We partnered with Companies.com.my to set up our business and manage all secretarial and corporate compliance matters. Winnie and her team have extensive knowledge and are able to advise instantly, are highly responsive and guide you throughout the entire process. I'm happy to recommend Companies.com.my services. It's a joy to work with them."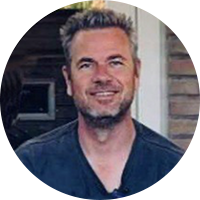 Bas Tensen, Dutch
Director, Ipsem Squared
Meet The Team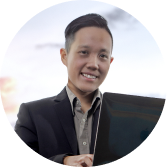 ZAZA ZAINAL
Zaza Zainal ACIS (CS) (CGP) is a Chartered Secretary with over ten years of extensive experience in corporate secretarial services. Zaza Zainal is an Associate Member of the Malaysian Institute of Chartered Secretaries and Administrators (MAICSA) and also an Associate Member of The Chartered Governance Institute, UK. Besides being well experienced in undertaking the Companies Commission of Malaysia (SSM) proceedings, Zaza Zainal is also conversant in a diverse range of other corporate exercises including the formation of companies in Malaysia, corporate restructuring and consultancy services. Additionally, Zaza Zainal has significant knowledge on the Companies Act 1965/2016.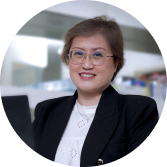 WINNIEFRED TAN
Winniefred Tan ACIS (CS) (CGP) is a Chartered Secretary and an expert in corporate secretarial services. With 30 years of experience advising SMEs and multi-national corporations from Asia, Europe, Africa and North America.

Winniefred was pivotal in clients' recent corporate listing and restructuring undertakings, and boasts a strong CV that includes previous ties at top corporate secretarial firms as well as an affiliate to a public listed company and top accounting firms.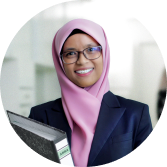 NORIZMA YAKUP
Norizma Yakup has over 12 years of experience in corporate secretarial and advisory services. She is well versed in company law and various regulatory legislations. She has successfully managed various aspects of company secretarial matters including formation of companies in Malaysia, joint venture consultancy, deregistration of companies and regular continual compliance thereof. She has a Bachelor in Accountancy (Hons) from Universiti Teknologi MARA.
Partners & Certifications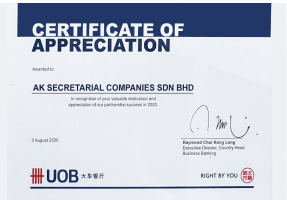 Certificate of Appreciation: UOB Bank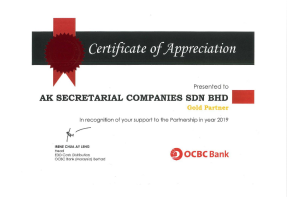 Certificate of Appreciation: OCBC Bank
Set up your corporate bank account with our partners.
GET IN TOUCH
Register your business with us.
WhatsApp Us Now!